December 15, 2021
Call for Papers: Lauren Berlant Graduate Student Conference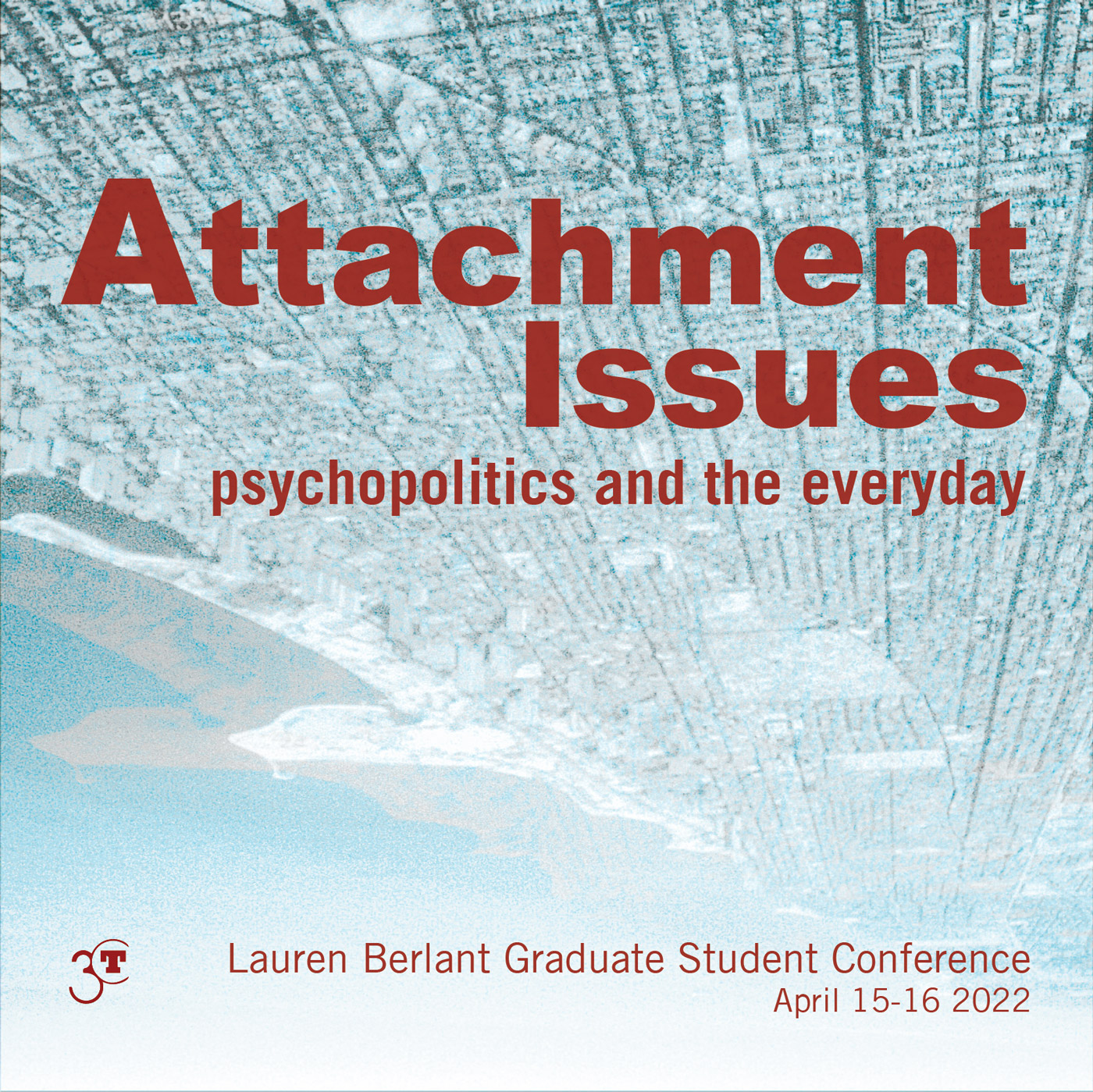 3CT Lauren Berlant Graduate Student Conference
Friday, April 15 – Saturday, April 16, 2022
Attachment Issues: psychopolitics and the everyday
Deadline extended: proposals due Friday, February 11, 5:00pm CT
When Frantz Fanon wrote about the mental disorders spurred by the "favorable breeding ground" of the Algerian War, he described a process through which the world forced itself into the mind. He reversed the typical explanation of mental disorders as individual and pathological, tracing them instead to their collective, worldly attachments. Rather than a psychocentric interpretation, Fanon gave a pyschopolitical one.
Psychopolitics offers a mode of investigation that addresses the conjoining of the public and private that worlds our every day. By acknowledging the power of materials (be they objective or literary) to move and create political subjectivities, psychopolitics analyzes what seem to be solely individual experiences through their collective, social attachments. Some of these attachments we make, tying ourselves, as Lauren Berlant describes, to objects and scenes that promise to deliver "the good life," even as they obstruct our own flourishing. Others are made to us, by wars and weathers and economies that depress and stress in unevenly distributed ways.
Hoping to apply Fanon's interpretive approach more broadly, we invite proposals for projects in the greater Chicago area that use a psychopolitical framework to describe how subjectivities are created, how desires are made and maintained, how resistance is consolidated or coopted, and how participation is forced or brought about.
Graduate students from any field may send proposals for papers that bring psychopolitical perspectives to bear on our attachments. We welcome proposals from current graduate students at any institution within ~100 miles of Chicago and will offer aid with expenses. To apply, submit a 250-word abstract and a short account of how you see your project fitting into the conference as a single document to ccct@uchicago.edu by Friday, February 11, 5:00pm CT (updated deadline).
We are planning and hoping for an in-person conference to take place April 15–16, 2022, at the University of Chicago, though will transition to Zoom if necessary. Panels will be moderated by UChicago graduate students. Papers will be given as 15-minute oral presentations with no pre-circulated materials.
Approved presenters will be notified in late February. Questions may be directed to any of the student coordinators: Niu Teo (niuteo@uchicago.edu), James Bradley (jamesbradley@uchicago.edu), and Tim DeMay (timdemay@uchicago.edu).
Potential topics:
Austerity and mental illness
Global warming's subject
Pandemics, selves, and socials
Self-help and cyborgs
Contagion and care
Animality
Toxins, toxicants, toxics
Habits and tactics of survival
Psychogeography