Pulmonographies
Instructor(s): Kaushik Sunder Rajan
Spring 2022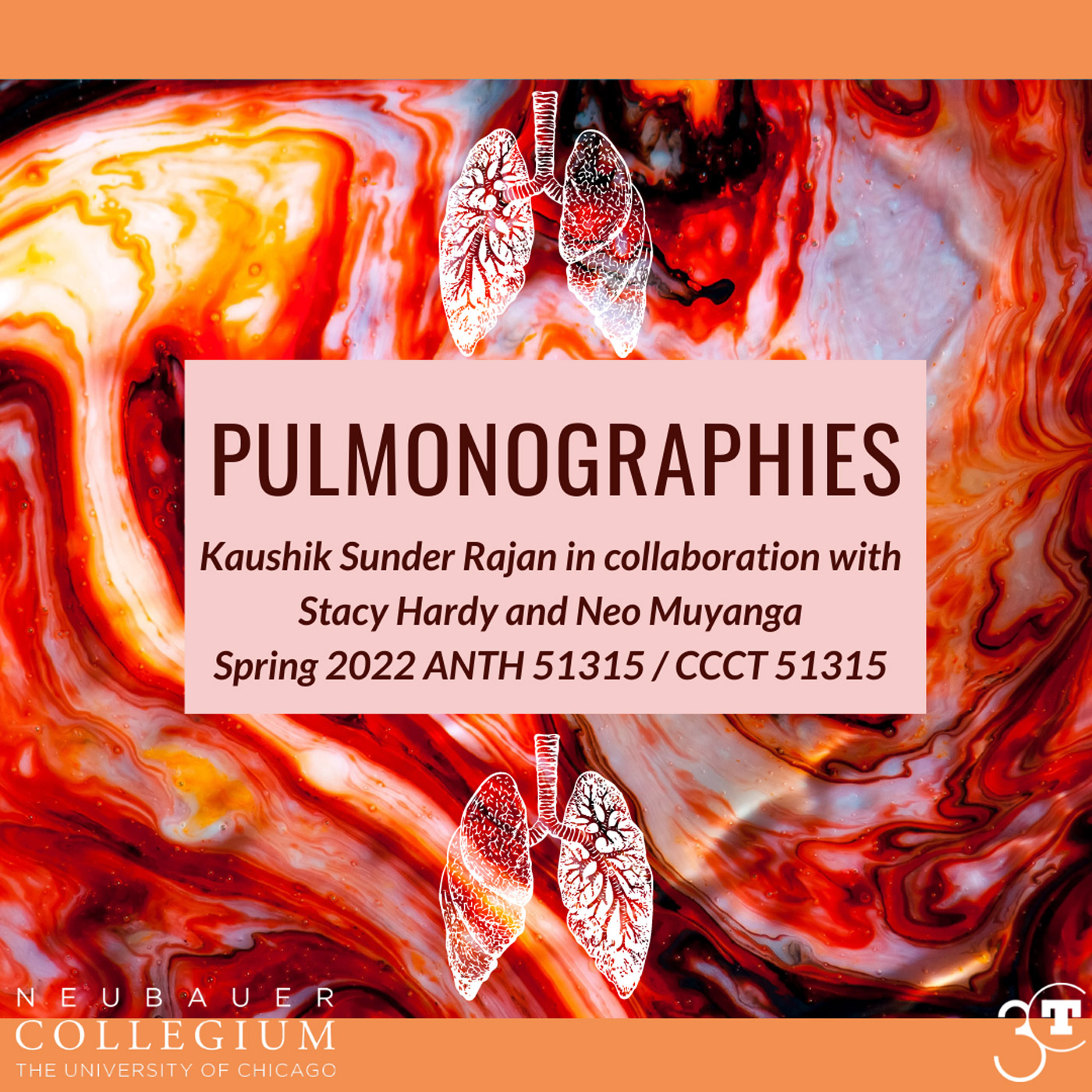 (in collaboration with Stacy Hardy and Neo Muyanga) 
This class considers what it means to think the biographies and geographies of breath, in a pandemic time, a time of climate crisis, a postcolonial time, a time of mourning. How might we think a politics of breath, and the breather as a subject of politics? How might we generate a theory and praxis of the breather from the "global South," recognizing that the cartography of center and periphery, "North" and "South," is itself very much at stake in relation to a problem that is planetary as much as it is global? How might an experimentation with ethnographic, musical and literary form help us explore these questions in more vibrant ways than our inherited conceptual modalities might allow? 
At its core, the class is a consideration of imperialism. It makes and explores the argument that empire has always functioned as primarily, at its heart, the oppression/suppression/exploitation of breath. Yet at the same time, there are countless uses of breath as the primary form of resistance – music, healing practices, feminist philosophy. Thus, breath is at once physiological and political, simultaneously individual and trans-individual. Our attempt is to pull at some the knots that tie these scales together, to open up some of the more liberatory threads, potentialities and promises that come from our differentiated yet collective being, to imagine ourselves (as anthropologist Tim Choy has put it) as breathers of the world who might conspire.  
To this end, the class is structured as collaboration and conspiracy between Kaushik Sunder Rajan and the writer and poet Stacy Hardy (both based in Chicago) and composer Neo Muyanga (based in Cape Town). It is an attempt to imagine forms and forums for breathing together while analyzing the manifest imperialist relationships in regimes of biomedicine and late industrialism. It will combine a reading of social theory, ethnography, literature and poetry with a series of singing and writing experiments. Alongside the class in Chicago, Muyanga will put together a pop-up community choir in Cape Town. We will synchronize reading practices here with choral practices there, in the hope not just of forging an internationalist curriculum, but also of generating embodied and performative forms of theory and praxis ourselves.  
We are grateful to the Neubauer Collegium for Culture and Society, whose funding has enabled the collaboration through which this class has been conceptualized. 
ANTH 51315 | CCCT 51315