Breathing Machines
Instructor(s): Kaushik Sunder Rajan
Fall 2023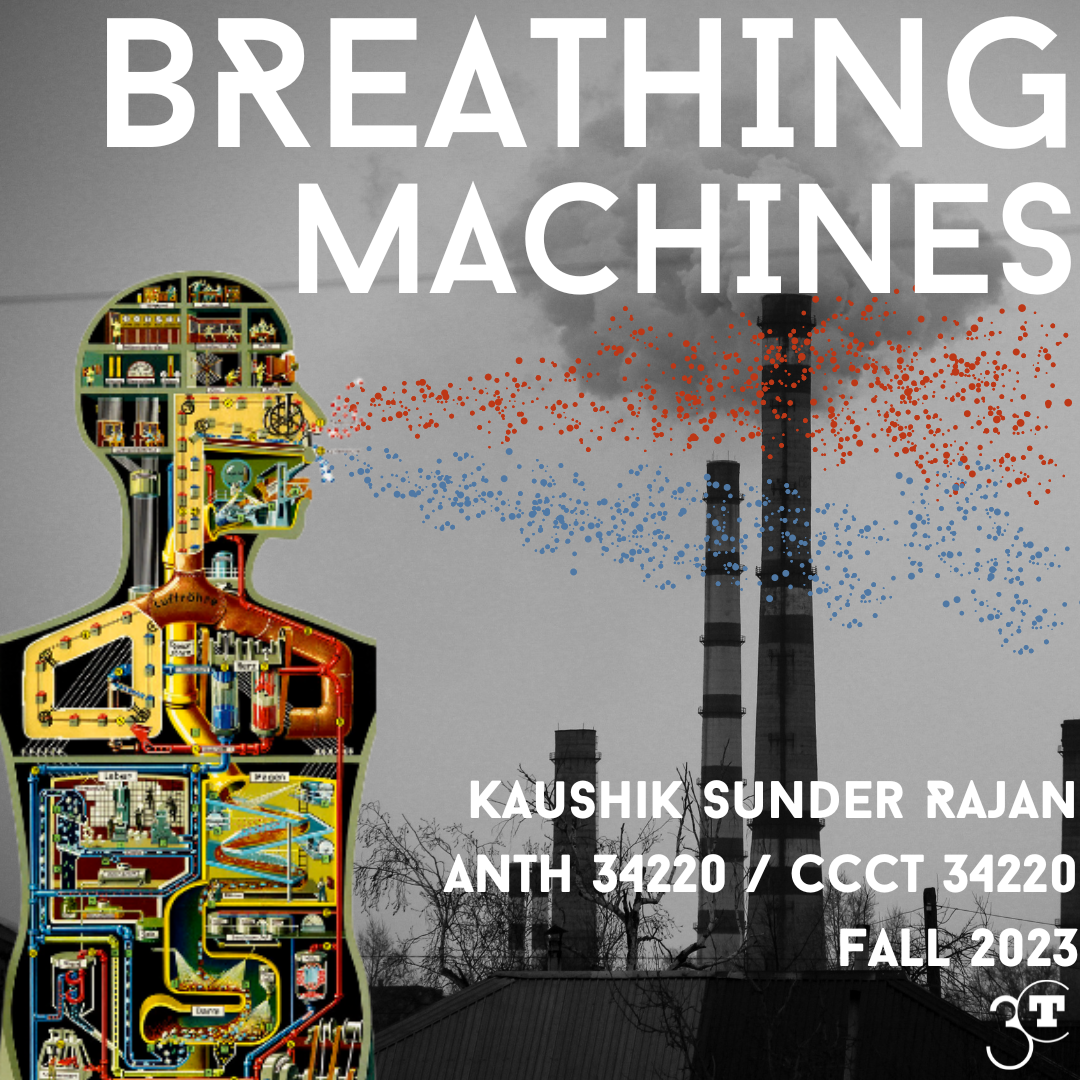 In his seminal ethnography Ecologies of Comparison, anthropologist Timothy Choy asks the provocative question of what it would mean for breathers of the world to conspire together. The "breather" is an epistemic category of environmental economics that is often incorporated as an externality in environmental risk-benefit assessment. Choy is asking his readers to reimagine this abstraction as a concrete, embodied, collective political subject. Choy's question is speculative, but we take it on board literally: what would it entail to build mechanisms for collective breathing by articulating scholarly research and teaching practices in the university to practitioners in multiple fields (for example, music, poetry, biomedicine, or law) through performance?  
We ask this question through the vehicle of the breathing machine. We define breathing machines as forms and forums for the building and expression of collectivity through the act of conspiring together around shared sets of research questions and theoretical / praxiological / poetic / literary writing or artistic and musical creation. The class will bring in guest lecturers and performers who work in multiple fields, diasporically and transnationally. Our collaborations will primarily traverse and link between the United States and South Africa, but there will be elements of the work that connect to activities and practitioners in Latin America (especially Colombia).  
What is at stake is the reflection and articulation of different domains of knowledge and practice, animated by a sensibility that is both ethnographic and poetic, weaving together readings that are anthropological, literary, philosophical and political, in order to imagine what multimodal and multisituated practice and praxis might mean for our times, across place and vocation. Students will be invited to construct their own breathing machines, and the class will serve as an incubator for the design of conspiratorial curricula, performances and collaborative prototypes.
This class is attached to the Neubauer Collegium project "Transperformations", and conceptualized in collaboration with Neubauer Visiting Fellow Stacy Hardy, Daniel Borzutzky (UIC) and Neo Muyanga (Cape Town) 
ANTH 34220 | CCCT 34220