Categories
James Ryan, Ben Samuel, and Adam Summerville
Trauma and the Aesthetics of Life: Bad News
Thursday, February 21, 2019, 5:00-7:00pm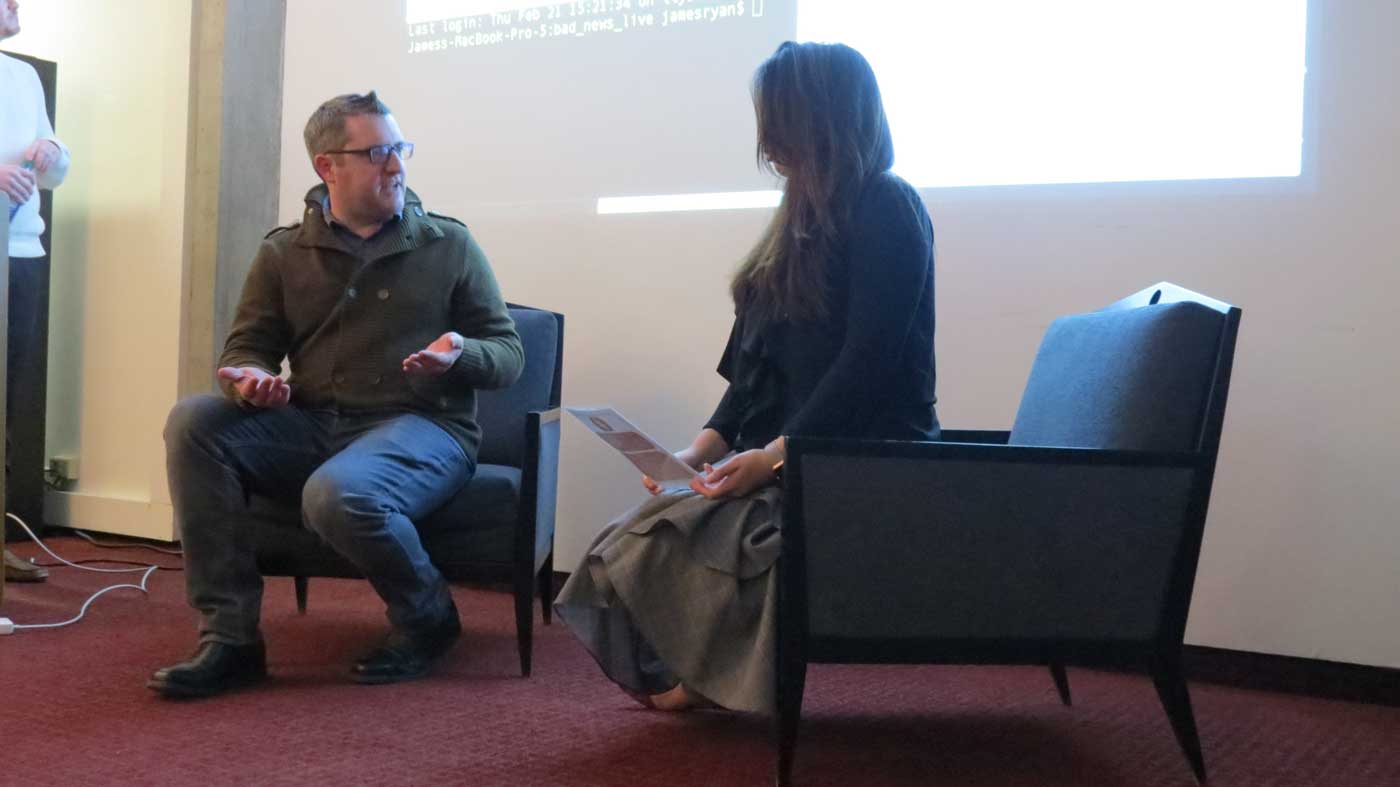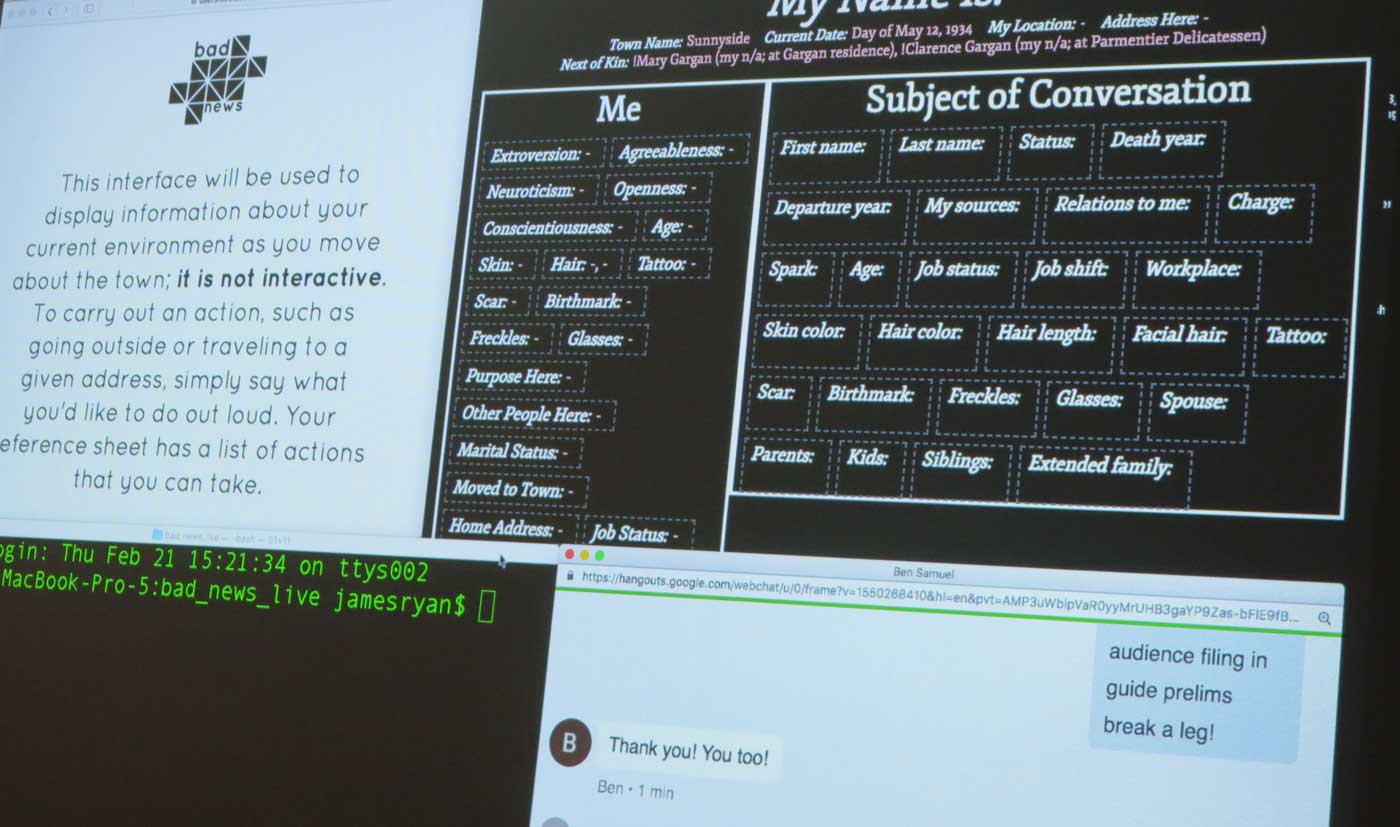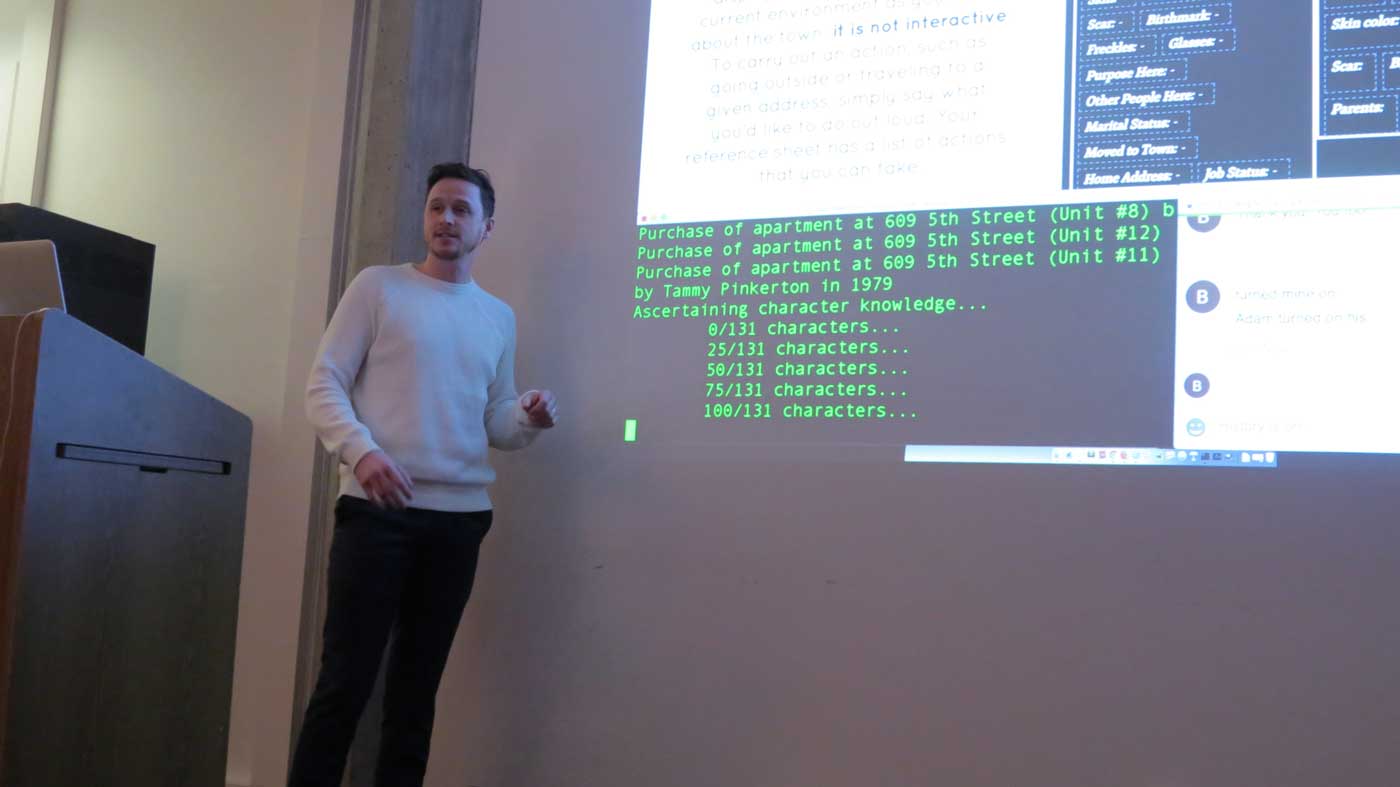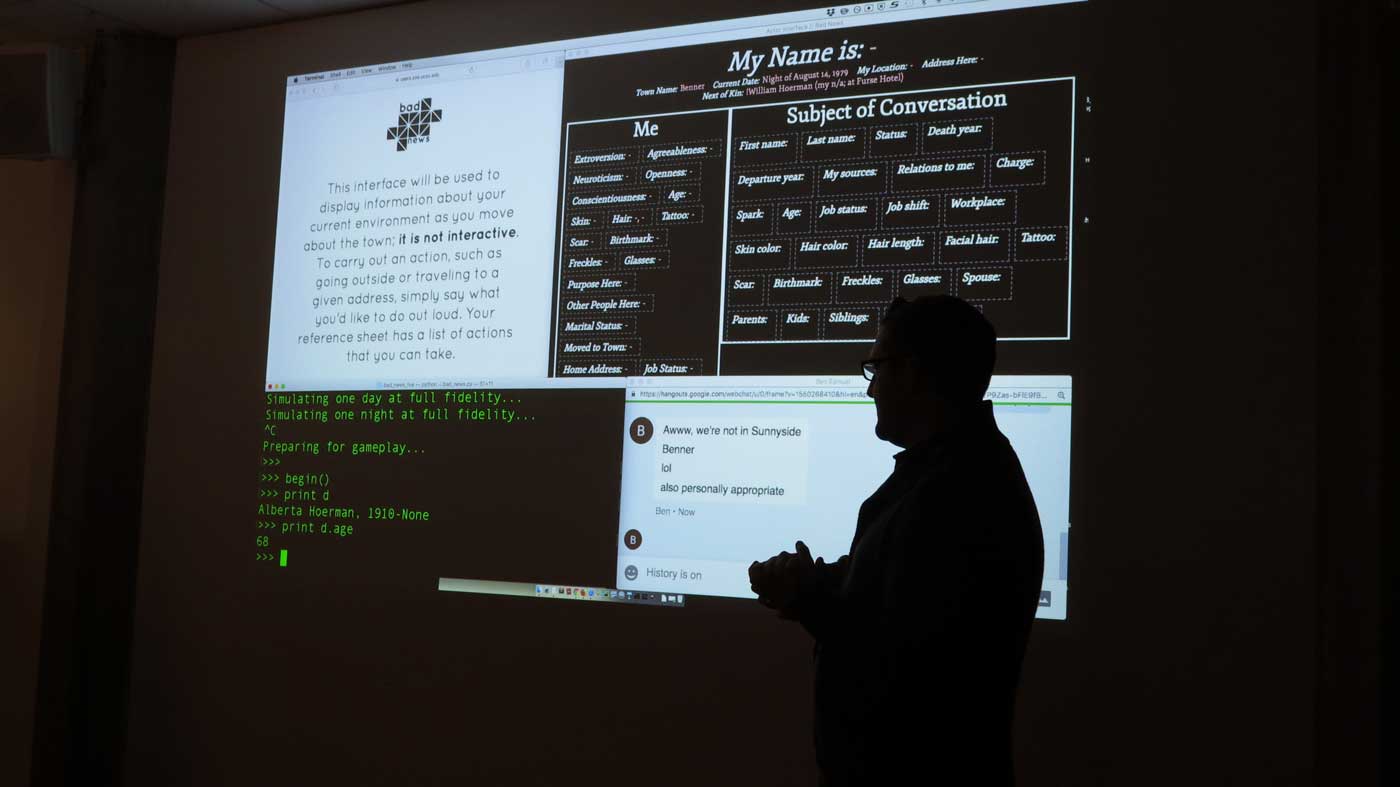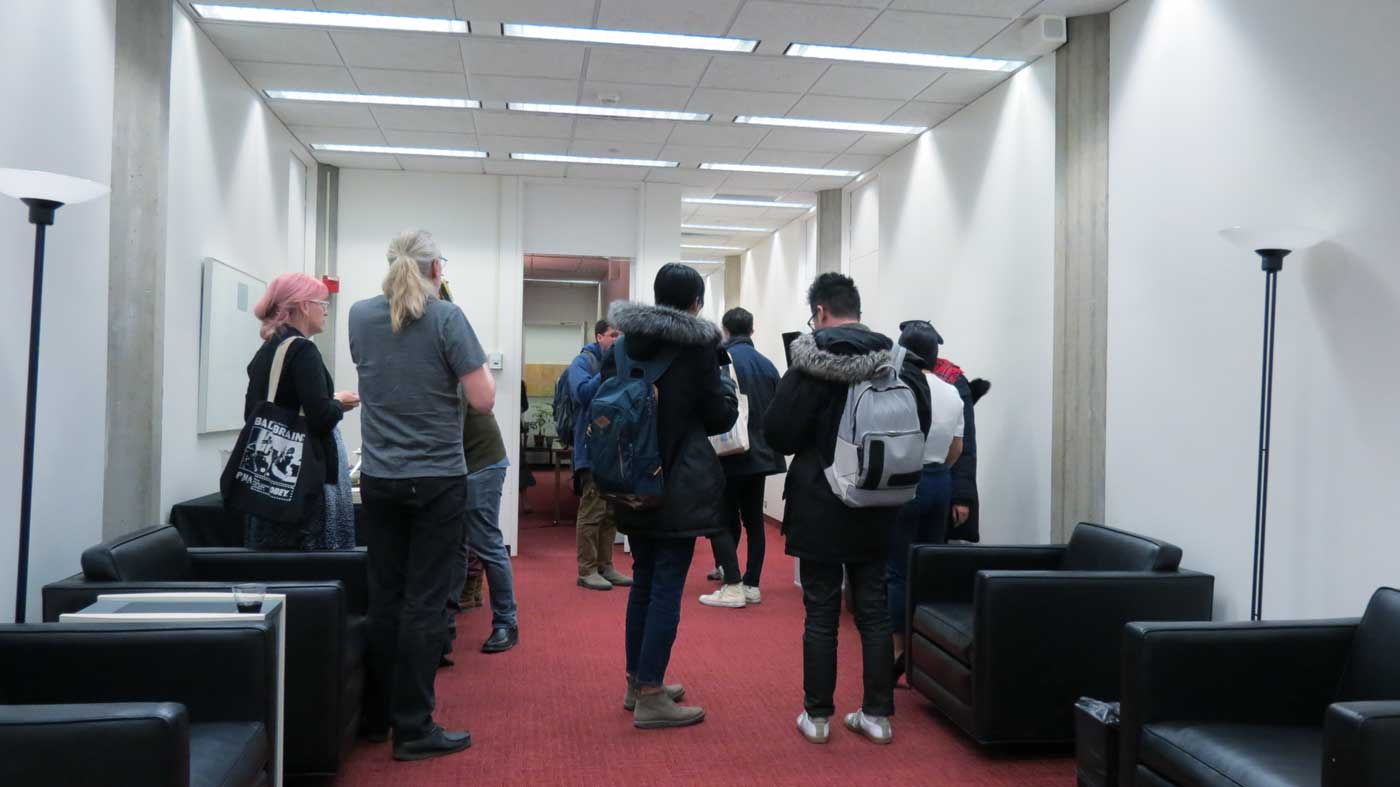 Bad News is an award-winning installation work that combines Wizard of Oz techniques and live improvisational acting into an emotionally charged one-on-one experience whose story and setting is uniquely generated, for each performance, by a computer simulation. In the summer of 1979, a resident in a computer-generated American small town has died alone at home, and a mortician's assistant—the player—is tasked with tracking down and notifying the next of kin. To do this, the player navigates the richly simulated town to interact with its residents, who are each played live by a professional actor. Throughout gameplay, an unseen wizard listens in remotely to manage the unfolding experience via live coding and discreet communication with the actor. Writing about the piece for Rolling Stone, Steven T. Wright remarked, "This marvel of procedural performance can only be played by a lucky few, and that's a crying shame." Through its peculiar bricolage of human and machine performance, Bad News meditates on the trauma of losing a life and, ultimately, a world.
In this special public performance, attendees will listen in on a live playthrough (in the style of a radio play) and receive a behind-the-scenes, commentated look at the AI technology and Wizard of Oz techniques that underpin the experience. Attendees will also be encouraged to ask questions and call out story ideas that can be communicated to the actor, who may integrate them into the experience as it is unfolding. A Q&A session will follow the performance.
James Ryan, Ben Samuel, and Adam Summerville created Bad News as PhD students in the Expressive Intelligence Studio at UC Santa Cruz, a research lab dedicated to exploring the artistic potential of artificial intelligence. Since its inception in 2015, Bad News has been performed internationally, at venues including the San Francisco Museum of Modern Art, Slamdance, and IndieCade, where it won the Audience Choice award. Adam Summerville, who is now an assistant professor in Computer Science at Cal Poly Pamona, serves as guide on the project: he assists the player in the lead-up to her performance and explains the piece to exhibition passersby. Adjacently to this project, Summerville is a rising scholar in the area of artificial intelligence for videogames, where his work has received attention from The Guardian and Slate. Ben Samuel, now an assistant professor in Computer Science at the University of New Orleans, leverages over a decade of improvisational experience to serve as the project's sole actor. In this vein, his past work includes a starring role in Hulu's first original scripted series, Battleground, which earned him praise from the New York Times. James Ryan, who is now a research scientist at the historic computing firm BBN Technologies, serves as wizard on the project—this entails managing each performance, behind the scenes, as it is unfolding. His work in expressive computer simulation has been featured in The Guardian, Vice, and on BBC Radio.